Catering Kitchen Design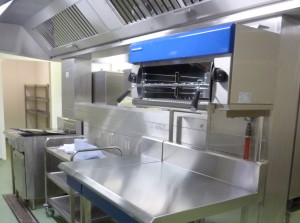 When you're spending a small, or large, fortune on a new kitchen, it's important that you get your catering kitchen design right the first time. Equipment, layout, ventilation,  floors, walls and ceiling are not cheap and need to be chosen wisely. It could save you much needed money to spend elsewhere.
Having worked with many kitchen designs over as many years, I know what works and what doesn't. My service is based on the very latest advice from the health and safety executive and the food standards agency, so you'll be right up to date from a safety aspect along with the specific needs of your business set up.
What you will get…
Impartial advice from an independent consultant
Advice on what you really need before you invite companies to tender.
Decide on the best layout and equipment
No nonsense service without the sales talk
Clear recommendations of the best practice
Health and safety, food safety and business specific ideas
Call me to discuss and arrange a meeting or complete the contact form