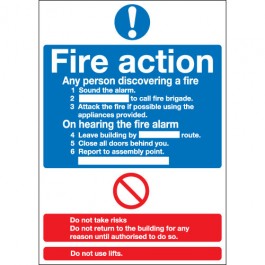 The law is clear on what fire safety checks that employers and building owners must carry out. It's set out in the Regulatory Reform (Fire Safety) Order 2005. The main point is that all businesses must carry out a fire risk assessment and put in place a fire safety plan. Ignoring fire safety can have devastating consequences as we have seen recently, and in the past. It's good business sense to attend to fire safety matters, and more importantly, it's going to save lives.
As more and more high rise buildings are failing fire safety checks in the wake of the Grenfell Tower tragedy, employers should take a fresh look at their actions and/or omissions with regard to fire safety. The Fire and Rescue Service are there to put fires out. It's the employer's responsibility to make sure that everyone is out of the building.
Here's my top 10 things you can do now to improve fire safety awareness in your business….
Can people evacuate quickly and effectively? – Practice an evacuation and record what went well, not so well and, make changes to improve. Tell everyone about the changes and keep practicing until it's the best it can be.
Training works – Giving people the right information about fire safety is a legal requirement. It works. Once people understand the potential effects of a fire, they change their behaviour for the better, for good.
Give people responsibilities for their own safety – Employee engagement is the best method of continual compliance in any workplace.
What's behind the door? – Final exit doors must be checked every day to make sure that they are unlocked and that there is nothing behind them to hinder an evacuation.
Poorly maintained equipment causes fires! – Have all your electrical equipment checked regularly and have a reporting procedure in place for employees to use.
Keep fire doors shut – Fire doors are in place to stop the spread of fire, make sure they're not wedged open.
Arson is the cause of 45% of fires – Check your areas outside the building and remove or enclose anything that might be tempting to an arsonist.
Is your fire alarm system working? – Where are your 'call points', lights and smoke detectors? Your alarm should be tested weekly.
What are your fire emergency procedures? – Everyone must know what to do if they discover a fire or hear the fire alarm.
Keep a record of all fire safety actions and review them at least annually.
You also have to prove that you're checking your premises and equipment regularly too. If you need help with the above, get in touch. Please don't wait until it's too late.