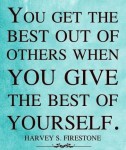 Testimonials are important. I offer practical solutions to reduce health and safety risks in the workplace. Employers and employees really benefit from my input. One of the reasons why my 'training works', is that I make learning and the training friendly, inclusive, fun, interactive and, most importantly, memorable.
Here's a small selection of great testimonials from my clients. For more of my feedback, have a look at the rolling testimonials to the right of any page.
Chris Rowlinson - Business Improvement Director - Rowlinson Knitwear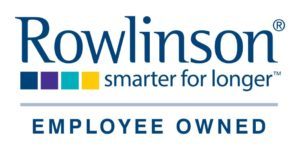 We wanted to ensure that we were COVID19 secure before our partners returned to the workplace. As a result of a site visit by Michelle and the compliance audit she carried out, we were able to re-open the site fully as we had hoped. Michelle was really easy to deal with, friendly and helpful. She is very knowledgeable, was friendly and supportive. Having implemented the actions from the audit, we were then able to open the buildings knowing that we are COVID19 secure.
Libby O'Neill - Health and Safety Partner - Wrekin Housing Group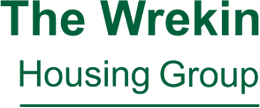 Michelle has over delivered for us in terms of being an integral part of the team, she has fitted in to the organisation seamlessly, and the overwhelming amount of good feedback we have had for her courses speaks for itself. She works tirelessly to keep courses interactive and engaging. All delegates have actually asked if Michelle can deliver other planned and previously delivered training.
The booking experience is great, Michelle understands our needs and our environment. She makes suggestions to make things easier for us and tailors courses for our requirements to make them more valuable. We have already seen improvements; staff are more competent in fire awareness and, raise and effectively deal with issues. They are proactive in understanding COSHH requirements and also internal processes that Michelle has taken the time to learn. I don't think I have ever seen such positive feedback from our trades and Michelle's training of the risk assessment process has really made the delivery of the risk assessment manuals so much more valuable.
I would definitely recommend Michelle and her well prepared courses. She is more than just a trainer she is a real asset to the organisation. Whatever your needs she can accommodate and is reliable and engages everyone on her courses, no one leaves without learning something.
Jason Burke - Manager - Fairhurst Estates

Booking the course was easy and simplistic. Michelle's teaching style made it interesting and it was good to have practical elements included. The team thought the course was fun, engaging and liked that Michelle includes everyone into the course. Staff came away with a clear idea of the effects of DSE and straightaway adjusted their workstations as recommended. And they have remained adjusted.
I would 100% recommend Michelle because the course was made interesting by how she delivers the training.
Sara Woolrich - JCM Business Solutions

After a short visit from Michelle, we were given some handy tips and helpful advise that we are already seeing the benefit from. All with the added bonus of her being super friendly. Would highly recommend. All good stuff, so thank you.
Ken Prince - Angel Springs

We arrived for the start of the course as 4 x very nervous guys. We left as 4 x confident guys, happy with what we had learned. Michelle has a knack of helping everyone to relax and enjoy her courses without any pressure. Her teaching techniques are by far the best I have come across yet. I would definitely recommend anyone to use Michelle for any training you may require.
Mandy Sheridan - Office Manager - Hallidays Group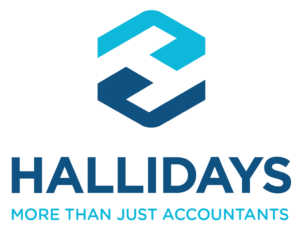 We wanted to review all our H&S procedures /risk assessments to ensure that we were fully compliant and taking the best care of our team. Michelle was recommended to us and exceeded our expectations. What she doesn't know about health and safety in the workplace, isn't worth knowing. She interacted with the team in a friendly and professional manner and everyone warmed to her easily. Her courses are interactive and she made them fun too. It's been a pleasure to work with someone as knowledgeable on the subject. With Michelle's consultancy services, we have received great support, that has been responsive to our queries. I am now confident that we are doing our utmost to ensure that our team members work in a safe environment.
Steve Allen - Managing Director - Steve Allen Insurance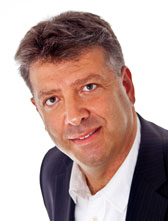 I asked Michelle to help one of my clients out with their health and safety. The company was in a bit of a mess. Doing well, but some of their procedures were awful. They were trying to get the business straight. They had just insured their £2m stock and that meant that the insurance company did a survey. Had Michelle Hay not been there, they would not have got through this survey. The result of the risk assessment by the insurance company, other than 2 areas, was that everything else was spot on. And that is purely down to Michelle. So well done.
Harry MacLean - Managing Director - Hendrik Veder Group UK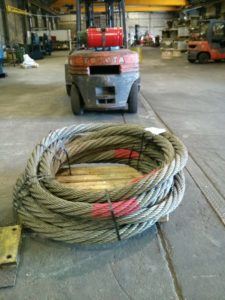 We engaged Michelle to review our health and safety systems in our new site. They were pretty non-existent and looked for guidance on how to move forward. The system improvements are vast. I was particularly impressed with Michelle's no nonsense attitude with certain individuals or issues. Thanks to Michelle's clear communication, we now have a safer and more compliant working environment with safety conscious people. Michelle does what she says she is going to do, whatever it is.
Maria Berry - Office Manager - Legal Financial Solutions
We needed to review our fire and health and safety procedures and Michelle Hay was recommended as someone who could help me. Over a period of four months, we now have everything in place that is needed and staff are certainly more aware of their responsibilities in both areas. Nothing was too much trouble for Michelle. She was easy to work with, efficient, organised, precise and flexible to our work needs. We are now all more aware of what we need to be doing to keep the company and staff working in a compliant safe environment. The feedback on the training that Michelle provided was excellent. From the pace to the staff being engaged throughout with quizzes, games and practical activities. I would definitely recommend Michelle and I could not have done this on my own. Thank you.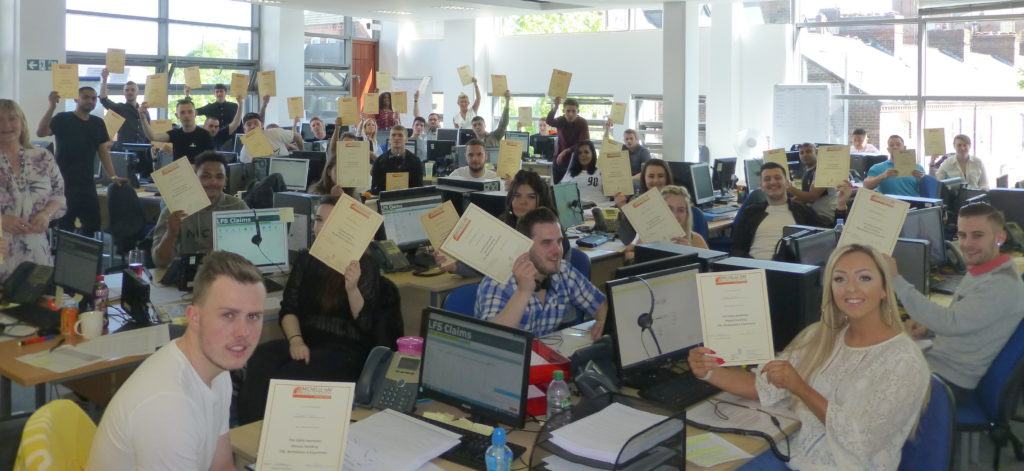 Kathy Gosling - Catering Services Manager - Stockport Grammar School
The training delivered more than I expected it to. It created a real buzz amongst the staff who were a little apprehensive before. I would not hesitate to engage Michelle to deliver more training. The team were still upbeat and still talking about the points covered. It was very easy to make the booking. Michelle was helpful and informative and replied promptly. I would definitely recommend Michelle. She has a perfect manner to get the most out of her candidates.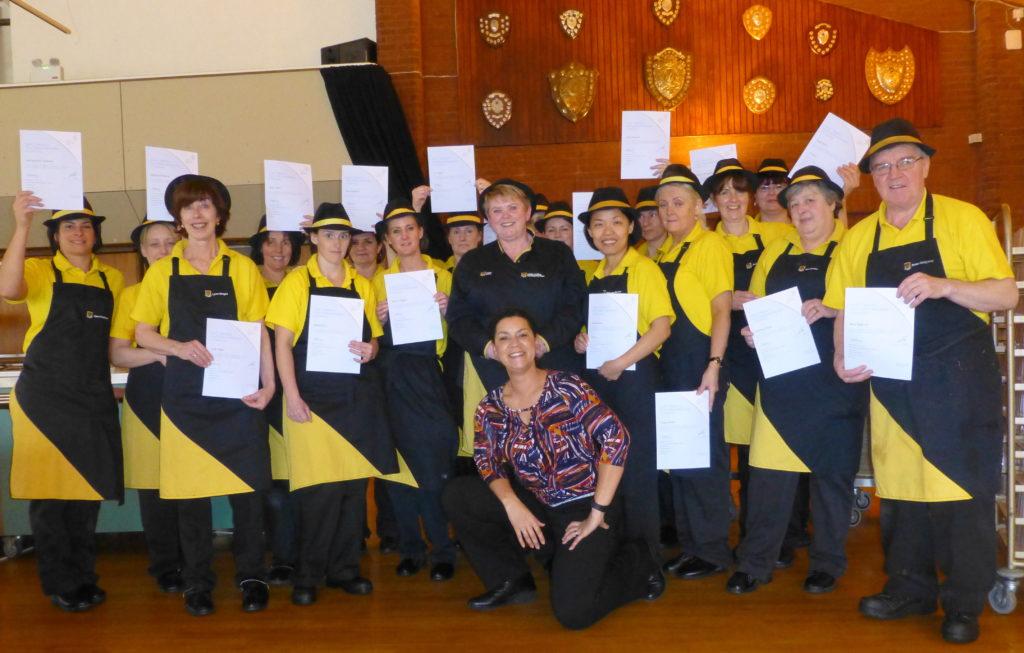 Esther Pike - Managing Director - Offizone Ltd

Michelle delivered manual handling and fire safety training to my team. The courses were excellent, tailored to our needs, which were met through the pace, activities and inclusion of everyone. Michelle engaged the team in a light hearted and yet serious and professional way. I would recommend you.
Gill Taylor - Taylor's Confectioners Ltd

The course was fantastic, I've had some very positive comments from the rest of the lads saying how good it was and how shocking the amount of things they didn't know or had forgotten.  So, thank you once again..
Hollie Stamp, Learning and Development Officer - Options Barton

I have recently completed both the CIEH level 3 Food Safety and Health and Safety three day supervisory courses with Michelle Hay Training. Michelle made us feel very welcome and used a variety of different training materials to develop our knowledge of the subjects. Michelle herself is a very professional, friendly and approachable trainer who is able to tailor the training to suit each individual learners needs. I thoroughly enjoyed the training and will definitely be using Michelle Hay Training again in the future.
Elen Williams, Learning and Development Officer - Options Ty Ni Cymru

Michelle has a very unique approach to training. She makes the difficult subject areas easier to remember with great teaching techniques and resources. If you don't feel confident, she will not leave you to feel that way for long. She ensures that she goes over everything you feel you're lacking in before you take your exam. A great learning experience.
Bill Walker, Managing Director - Advance Cleaners Limited
Hughes Safety Showers -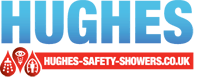 'The latest batch of new recruits has just undergone the training and taken the exam, and although the results aren't yet in, we are confident that under the engaging tutelage of Michelle Hay, all of our team will pass with flying colours… Through a mixture of group work, educational games, and lively presentation Michelle turned what could have easily become a long slog through
health and safety legislation
into an enjoyable break from the normal routine of… '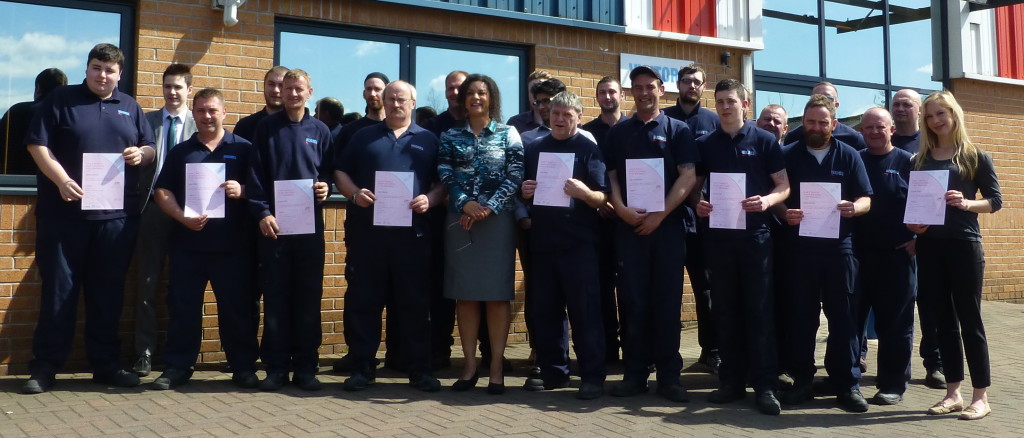 Read the full article from 
Hughes Safety Showers…
Richard Cundiff, Managing Director - We're Moving Relocation Services
"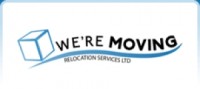 All in all it was a good training session. Everyone was kept engaged. Everyone enjoyed it and I would highly recommend Michelle."
Matthew Cooke, Managing Director - The Training Company
Michelle's subject knowledge adds the colour and interest in her training and those attending her courses have left feedback which confirms her ability to engage candidates and meet the training needs.
It is with great pleasure that I am able to say that the standards and commitment to the job at hand is exemplary and one many others should look to achieve. Michelle has the business attitude which matches the perfect profiles, – well presented, on time, prepared, ready and willing to complete the work she obviously enjoys.
Grahame Davies, Head of Business - Opsium Limited
Steve Hudson, Group HR Manager - Hughes Safety Showers
Michelle has just completed a Health and Safety training program for all our staff here at Hughes Safety Showers. I am very pleased to say that the whole program was a complete success. I received very positive feedback from all the staff in regards to Michelle's engaging training style in what can be a difficult subject.
Michelle's training has significantly raised the knowledge, competence and most importantly the profile of health and safety within the business. All the staff now have a health and safety qualification which also covers all our legislative requirements.
Michelle is now so ingrained into the culture at Hughes that it is not uncommon to hear the words "What would Michelle say?" when health and safety matters arise. I would endorse and recommend Michelle's training to any organisation big or small.
Christine Thew at Stockport College
Michelle has delivered courses for me at the College and has been extremely professional and well organised. Michelle arrives early to deliver each course and is organised with course materials. Due to our courses being funded she has been able to complete the necessary paperwork required i.e. registers and reviews. The IV has given good positive feedback which also relates to Michelle's ability and knowledge to deliver courses for the college. The courses have received excellent feedback from students and I will have no hesitation in employing Michelle again to deliver training.
Murray Hobson - Excel Publishing