I recently read an article in a national newspaper that the five star hotel restaurant run by one of the top chefs in the UK had gone from a food hygiene score of five to just one. How can it be that a team achieve the highest score of 'very good' to 'major improvement necessary'? It certainly seems very harsh.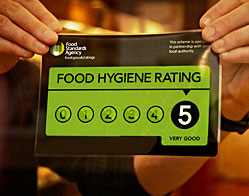 After reading the article  I gather that the first problem arose when the inspector did not have anti-bacterial soap to wash their hands with. This was just the start, and having had 30 years of many inspections and company audits, if the EHO can not wash their hands at the very beginning of the visit, I'm afraid that it's inevitable that they will seek to find many more things wrong.
In the article, the chef claimed that it was just the fact that they only had one vacuum packing machine, but I feel that he is being naive here. If an inspector is unable to wash their hands, they then will ask the question, what are all the staff doing to prevent cross-contamination throughout their working day and that must mean that they are not washing their hands at all. Unthinkable!
I have lost count how many times I have said this to staff; to make sure that the soap is always available at all the handwash sinks, along with paper towel/roll and that the sink is not full of discarded food. I drummed into the chefs that whilst it might not be their duty to change the soap and paper towel, it is their job to ask a porter or other kitchen staff to refill them. I managed four kitchens in my last job and eight handwash sinks, so I know that everyone needs to be vigilant throughout their shifts.
Unfortunately for the chef, and I have said this many times, the inspection is just a snapshot of the operation on that particular day. So, he is unlucky about the lack of soap. However, the lack of records since April 2013, some three months, is really not acceptable. I can't imagine how this key rule of the Food Safety Management System could have been ignored for so long and since rolling records should be kept for three months anyway, for inspection purposes, I wonder who should have been checking this.
As the person in charge, it should have been him. Whatever reason or excuse a manager or head chef uses for not checking that the staff are complying with the regulations will not wash with most EHO's and I'm sure that he now realises that.
There were a number of other issues wrong with the kitchen that day, fruit flies in the kitchen – unlucky? Raw fish stored above cooked crab – basic error! The same vacuum packing machine used for raw and cooked – a high risk that could have been avoided if a risk assessment had been carried out. All in all this article highlights that to become, and remain, compliant in food safety, is hard work and you can't take your eye of the ball for a minute, let alone three months.
If you would like training on any or all aspects of a Food Safety Management System, please complete the contact form.
To read the published story click here:
Kitchen nightmare for celebrity chef Marcus Wareing as hygiene inspectors fail his two Michelin star restaurant after finding flies and E.coli risk | Mail Online.